Her Songs Become Your Songs
Folksinger/songwriter 

Jean Marie weaves threads of emotion and humor into a musical quilt that warms and comforts her listeners with her beautiful voice and lyrical phrasing. Whether singing ballads from contemporary songwriters, favorites from years past, or her own original works, Jean Marie invites her audiences to "fall into" her songs and become a part of the story themselves. Her great gift as a writer is to connect with each listener so that each song feels like it tells their own story.
JEAN MARIE MUSIC
COMES IN DIFFERENT SHAPES & SIZES!!!
Jean Marie - All By Herself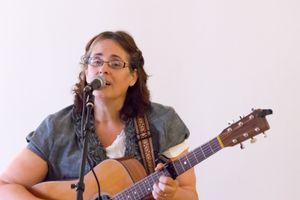 Herself can be found singing in community rooms, banquet balls, retirement villages, private parties, praise services, retreat settings, and campfires.  She will individualize a program to meet the audience and organization needs. 
Examples of programs include:  -Songs of Summer Fun, -Michigan in Song, -In Praise of Autumn, -All Things Green (& Irish), -School Daze, -Songs of Childhood, -Songs of Loving and Longing,     -Anthems of Survival, -Praise at All Times, -Singing our Stories, -Songs of December,   -All Things Red, White, and Blue, -Hope in the Darkness, -Stormy Weather, -Celebrating Mother Nature
Jean Marie & The Lads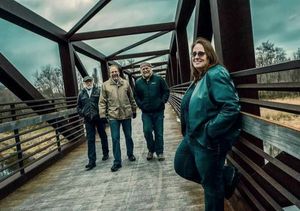 One, two, three, four or more!   Lads, that is!   You can find Jean Marie with The Lads rounding out the musical fun in concert at theatres, festivals, and celebrations of all kinds.  There's Mark Szabo on upright bass and guitar, Jon Potrykus on guitar, fiddle, dobro and mandolin, Dennis Lowe on bagpipes for starters!  Bringing an eclectic collection of originals, folk, Celtic, and Americana, Jean Marie & The Lads bring energetic ballads, emotion-filled song-stories, lively tunes, and beautiful melodies.   They will laugh, play and sing their way right into your heart.  www.jeanmarieandthelads.net
Jean Marie with La Compagnie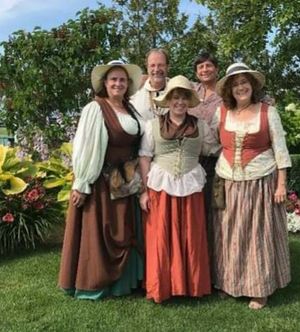 Specializing in music and dance from French Canada, the Maritimes, Ireland, Scotland and our home state of Michigan, La Compagnie is a lively quintet delighting in keeping the music from our ancestors alive and relevant.  Led by Genot Picor on vocals and guitar, Jean Marie is joined by Mark Szabo on upright bass, Katherine Morris on banjo, guitar, bohdran and whistle, and Nellie Schrantz Osantowski on the fiddle.   You will find them at fesitvals, concert halls and re-enactment events around the state.      www.lacompagniemdt.com
Jean Marie with GlennCora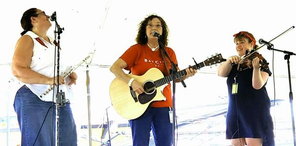 Straight-up Celtic music from these three ladies of the Saginaw Valley!   They like it light, they like it fast, they like it to move, they like you to move with them!  Drinking songs, Irish lullabies, dancing tunes - jigs and reels, lassie-meets-laddie songs, it's all fair game for this trio as long as it makes you tap your toes and feel like dancing.     
Facebook:  GlennCora - Celtic Music


Many music lovers across Michigan also know Jean Marie Learman as the lead singer, whistle, flute and concertina player from the Celtic band, EQUINOX.   EQUINOX has four CDs featuring traditional music from Scotland and Ireland as well as some offerings from contemporary songwriters in this genre.  She also plays and sings with the French-Canadian/Celtic band, La Compagnie.  They released their first album Vive! La Compagnie in June 2017 and are preparing to release their second, Great Lakes Legacy.    However, Jean Marie has also been writing heartfelt songs about the connections with people and events in her life for over twenty years now. She has recorded two CDs, Sing for the Children and Still Singing with mostly original works. AND THE NEW CD is HERE!   Jean Marie:  Lads on the Side was released in early summer of 2019.   Enjoy Jean Marie's originals The Captain's Wife, Pickles from the Jar, Breathe in the Water, We Give Thanks, I Miss Ya Honey, and Unto the Night along with traditional songs and tunes Green Grow the Rashes, The Belfast Hornpipe, The Raven and a modern folk tale of a mining disaster hero The Ballad of Augie Mattson.
 
Pickles from the Jar - a Jean Marie original
VIDEO BELOW performed with The Lads at Thumbfest.
Catch Jean Marie in performance with one of these bands!