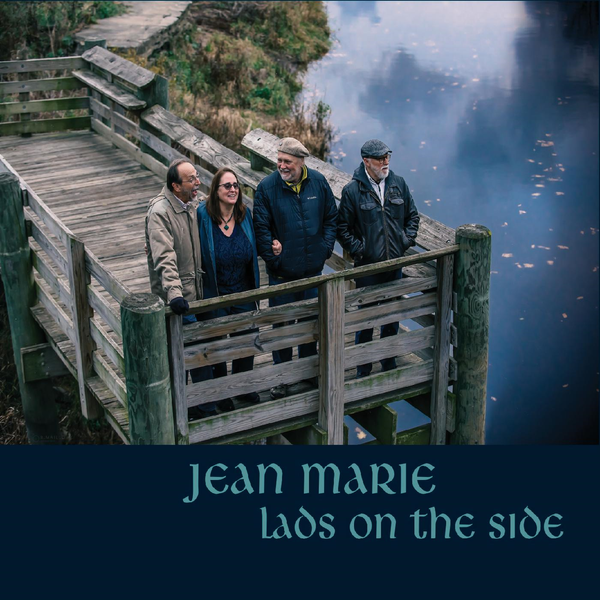 Photos by Richard Mailloux 2018
Jean Marie and The Lads
Funny man, Burgess Meredith, was known to have said,

"Wine, it's in my veins, and I can't get it out!"

  
Well, we say,
"Music!   It's in our veins, and we can't get it out!"
This high-powered charismatic folk group draws from over 120 years of playing ecletic folk, lively Celtic, and Jean Marie's originals for festival, concert, and pub audiences.
"120 years!   Don't say that!   It'll make it sound like we're a bunch of old timers!"
Well, anybody looking at our photos will know we're no spring chickens!  But just like the blood in Meredith's veins, we can say we have matured with age and experience, and we bring all that together musically like a fine wine!
"Either a fine wine - or a bad vinegar!"
Hmmm.   Sounds like a tasting is in order!   Check out the sweetness of JM's vocals along with her flute, whistles and concertina!   Sample the crispness of Colin's rhythm guitar, harmonica and bodhran!  Relish the bounce and the drive of Mark's upright bass!  Coming soon with cuts from our new CD project, savor the spice of Jon's fiddle and dobro!
We think you're gonna like it!  We think you're gonna like US!
Jean Marie, Colin, Mark, & Jon
Photos by Richard Mailloux 2018
"

The Michigan Renaissance Festival stages are filled with the most talented and skilled musicians on the circuit, and Jean Marie & the Lads fit that description most emphaticially! Truly entertaining and gifted, a pleasure to listen and tap a toe to!"
— Maria Christian, Entertainment Director, Michigan Renaissance Festival
Pickles from the Jar - a Jean Marie original
VIDEO BELOW performed with The Lads at Thumbfest.